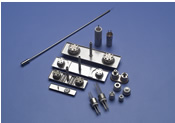 MPD Components, Inc.
316 East Ninth Street
Owensboro, KY 42303
U.S.A.
1-800-803-6515 or
270-685-6405
(fax) 270-685-6202
AS9100D with ISO 9001:2015 Certified
© 2005 MPD Components,
Inc. - All Rights Reserved.



Ceramic To Metal Seal Assemblies
The two basic techniques for sealing ceramics to metal - "molybdenum-manganese" and "active-metal (including titanium hydride)" - were pioneered by General Electric over 45 years ago. Our history and experience goes back to the days when we were General Electric. Though no longer part of GE, today at MPD's facility in Owensboro, Kentucky, this same leadership is making available newer and more sophisticated techniques and processes to meet the critical demands of medical, aerospace, industrial customers for sensors, feedthroughs, hermetic seals, structural components and other advanced precision ceramic/metal assemblies. Please contact us so we can help you design a ceramic/metal component to meet your needs.
A wide range of ceramic-to-metal combinations is available, in almost any configuration, for your consideration. MPD alumina and forsterite ceramics are currently being used in assemblies which make use of the following metals:
alumel
chromel
columbium
copper
monel
molybdenum
nickel
nickel-iron-cobalt alloys
nickel-iron
tantalum
tungsten
certain stainless steels
In fact, depending upon geometry and seal design, virtually all metals can now be satisfactorily sealed to one of MPD's ceramic materials. Through the use of proprietary as well as standard industry techniques, ceramic-to-metal seals can also be prepared to stand duty in severe environments involving ultra-high vacuums and temperatures, high RF fields, corrosive vapors and liquids, and many others.